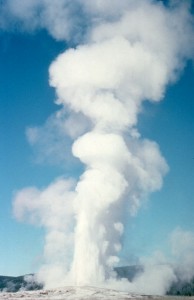 Before it was something for humans to worry about , the North American Continent was wracked by huge volcanic eruptions the like of which humans have never seen. Those who travel to Yellowstone National Park observe the eroded remnants of these calamitous explosions which form the Yellowstone Caldera.
Yellowstone NP is the youngest of a string of calderas stretching from Oregon to Wyoming. One theory is that about 17 million years ago a meteor plunged through the earth's crust into the underlying mantle which released the pressure below and a massive eruption followed.
The question is then, how come there is a caldera at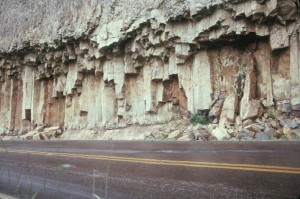 Yellowstone in Wyoming, when the hotspot was created in Oregon? Well,the answer is a bit confusing. The hotspot never moved. It's still where it was created 17 million years ago. Instead Yellowstone NP is now sitting over the hotspot because the crust of Central North America is slipping southwest at about 2" each year, so 17 million years later, Wyoming is sitting where the old Oregon would have been.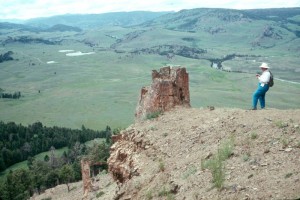 There are other theories, but I like this one. Now, on the crustal journey southwest as the crust moved across the hotspot the eruptions would cease for a time, and then pop up sort of like a cutting torch punching through steel, and then there would be another huge eruption and another caldera. There is a chain of the calderas running northeast across the country from Oregon to Wyoming.
These eruptions are so severe because the eruption releases rhyolite magma. Rhyolite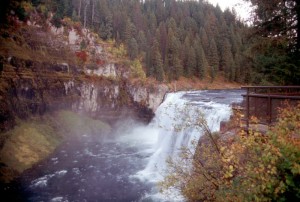 magma has the ability to absorb huge quantities of water which remain absorbed so long as the pressure is kept on the top. Release the pressure by cutting through the crust and the steam expands in a massive explosion carrying magma and anything else in the way to the surface. Great clouds of hot rock move across the landscape in great pyroclastic flows that weld together forming tremendous cliffs of soft rock.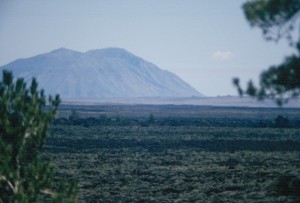 When you travel in Yellowstone NP some of the great cliffs are the result of these cooling pyroclastic flows. If you try to follow the trail of the calderas you will find it difficult to see much. Erosion has done its work and many of the old calderas are flattened. Highways pass right through the Rexburg Caldera but you'd not know it was there.
Your drive is made interesting by secondary eruptions that have occurred across these plains and have spewed out a very liquid black basalt lava which has created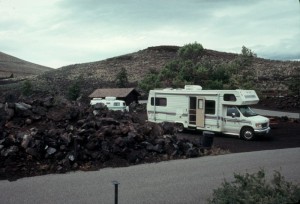 very interesting lava beds, and nearby there may be cinder cones from which the lava often flowed. Craters of the Moon National Monument has preserved many of these lava flows and has good examples of cinder cones.
Whether at Yellowstone National Park, or areas farther west you will find interesting scenery, and great camping. Take some time and explore.
You can find more information and maps showing some of these features in my scenic tours book, "The Lure of Pine and Sage", which is available as a download from my website, www.stonesstravelguides.com