Welcome to Prince Albert National Park, 1500 square miles of wilderness. When the government set aside the land in 1927, some considered it a waste of money. Why protect a special section of wilderness when there was so much?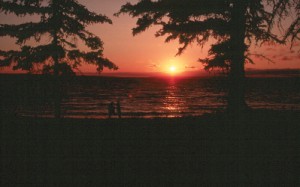 It is fortunate that some people had the foresight to make the effort because where there was once endless wilderness, men have reduced it drastically. To the north, forest has been cut for pulpwood, and to the south new fields are checkerboarding their way right to the park boundaries.
Travellers heading west to the Canadian Rockies often miss one of Saskatchewan's out of the way treasures.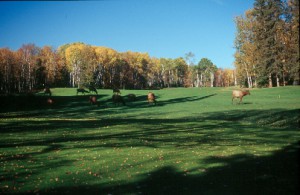 Often, they try to cover the prairies as quickly as possible, tiring of the continuous rolling fields of grain and the occasional slough. Actually, these are quite scenic on their own, but if you head north past Saskatoon, you will encounter terrain you probably didn't expect. Slowly small stands of aspen begin to intrude on the agricultural landscape. Hills appear, a few small lakes, and even exposed rocky cliffs.
Waskesiu is the centre of commerce in the park. Here you will find the major campgrounds, a few hotel room, and cabins, and a store and library. Lake Waskesiu provides lots of fish fun, boating and canoeing, and the big sandy beach at the townsite is a large hit with the children.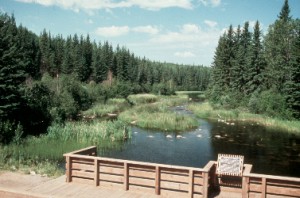 There are areas with more primitive camping. At the Narrows Campground they are trying an experiment with solar panels to see if solar panels and batteries can replace the expensive propane generator that has serviced the location for years. There is a small marina here, and the stored power will provide them with electricity, as well as pump water and light the restrooms.
Prince Albert NP has a wide variety of hiking trails that will take you from civilization into the backcountry where you can expect real wilderness experiences ranging from the crazy cry of the loon to the scream of a prowling lynx.
Of course, with its 1500 lakes, the park is a natural for canoeing. The canoe routes will lead you into some of denser wilderness regions of the park beyond the trails.
If you are looking for something a little less strenuous, stop at the golf course and play a few holes. You may even get a good look at a herd of elk having an afternoon rest on one of the fairways.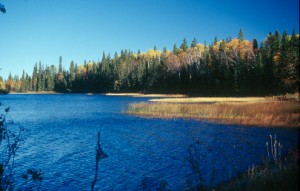 The next time you cross the prairies, take a little sidetrip. Head north of Saskatoon to Prince Albert National Park.
Happy RV'ing
For more than four decades James Stoness has travelled the roads of North America, photographing and writing about what he has seen. His travel articles and beautiful pictures have been published in several magazines and newspapers. He is also the author of five western novels.  Visit his website at:  www.stonesstravelguides.com