One of the nice things about RVing is the opportunity to take an extra day here and there and enjoy other recreational facilities. With that in mind, you might like to try a train ride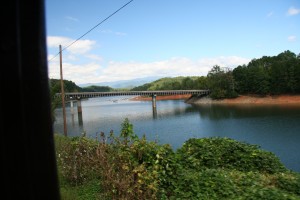 along the edge of the Smoky Mountains in North Carolina. Depending upon your choice of tour you might find yourself on a 4 ½ hour trip through the Nantahala River Gorge, or winding along the Tuckasegee River, or possibly thundering across the 238 metre Fontana Trestle.
Tours run from both the town of Dillsboro and from the Bryson City depot. The company not only has scheduled tours throughout the year, but also runs extra trains for special events such as Valentines Day, Mother's Day, New Years Eve, and many, many other eventful days.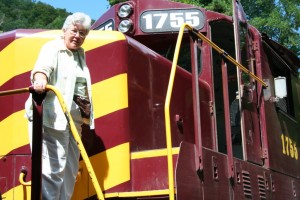 You might like to try the Gourmet Dinner Train and treat yourself to a four course meal, cocktails or wine and great service. Of course you could try a three course meal and enjoy their Mystery Theatre performances on the Mystery Theatre Dinner Train.
The staff of the Great Smoky Mountains Railroad is there to give you the best trip possible. You will find them all extremely friendly, and very helpful. If you have questions about the train, or the tracks, or the scenery, just ask.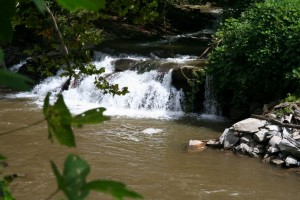 The depot at Bryson City portrays the atmosphere of a busy old time station with all the hustle of people getting ready for a great journey by train. The live music performed outside added a sense of warm enjoyment for the passengers. When we were there it was fall and the station was decked out in pumpkins, corn stalks and other vegetables as well as some very beautiful pots of flowers.
For all the adult children boarding the train there is a special treat at Bryson City. Just across the corner is the Smoky Mountain Trains, a store dedicated to model railroading. Not only is it a fully stocked model train store, but it has museum in the back with a huge operating layout that'll be sure to get your creative thoughts jumping.
If you are planning on leaving from the Bryson City depot you might like to visit the Cherokee KOA. This is a family oriented campground buried in the trees at the foot of the mountain. It has loads of activities and they have a shuttle to the train station. This is handy because parking at Bryson City Depot is scarce.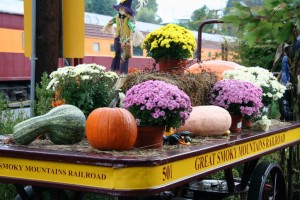 Take time to relax. Take a train ride, whenever you can.
Did I forget to mention the beauty and the mystery you see when you visit the Great Smoky Mountains. Misty, and blue they never fail to amaze me.
Happy RVing
For more than four decades James Stoness has travelled the roads of North America, photographing and writing about what he has seen. His travel articles and beautiful pictures have been published in several magazines and newspapers. He is also the author of five western novels.  Visit his website at:  www.stonessRvTravel.com