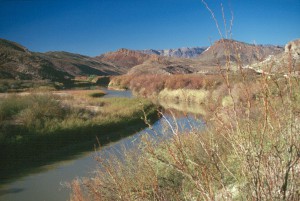 The Big Hill is just that, a mighty steep hill. It probably has another name, but to the locals it's just the Big Hill. It's found along the River Road in Texas, between Presidio and Lajitas. The River Road is a terrific drive…. for a small vehicle. It's rolly and crooked with great views of the massive cliffs along the river and the occasional far view make it very photogenic. Just across the river is Mexico, but would be a difficult trip from here.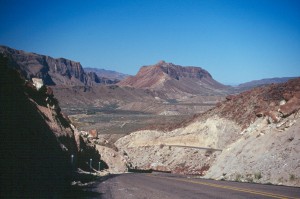 On this road the only drawback for heavy RV's is the Big Hill. If you are driving west, the Hill begins near the wigwam at the rest area along the Rio Grande. Ahead the thousand foot cliffs reach out almost to the river's edge and space for a road is limited. The road builders used a winding game trail and turned it into a road to reach a narrow gap and pass down the other side of the cliffs. To do this it is necessary to climb a 16% grade for a mile, and then descend a 16% grade down for a mile. There's no way around it if you want to go this way.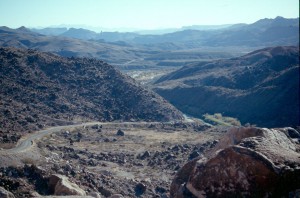 RV's have had trouble on this hill. And lots of others have made the trip without any problems. If you have trouble you are a long way from help. This is a very isolated part of the country. We approached the hill knowing what to expect and even with gearing down we found our speed decreased dramatically fast before we had proceeded very far up the grade. It got slower and slower until I was convinced we would stop before we reached the top. We didn't, but our speed at the top was less than 5 mph. If the hill had been 100 feet longer we would have had problems. It was after that trip that we added the Banks system for better exhaust and breathing and more power.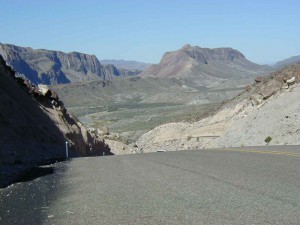 The trip down the other side was no problem. Keeping it in low gear and not allowing the vehicle to speed up too much before we braked back down kept us at safe speed down this steep and crooked hill, without heating up the brakes. We went back later with just the car. What a difference! Easy drive!

If you visit Big Bend National Park and you want to head farther west, you will find that on a map this road looks really good. Except for the Big Hill, it is.
For more than four decades James Stoness has travelled the roads of North America, photographing and writing about what he has seen. His travel articles and beautiful pictures have been published in several magazines and newspapers. He is also the author of five western novels. Visit his website at: www.stonesstravelguides.com
Happy RVing