West of Williams Lake, British Columbia, there is a remote valley. It is a valley of great beauty backdropped by white crested mountains. This is the Nemiah Valley, the homeland of the Xeni gwet'in (honey gweteen) , one of the six T'silhqot'in bands of aboriginals. The forests broken occasionally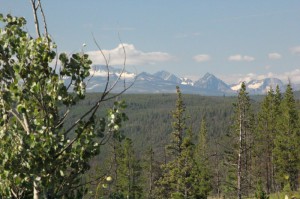 by sparkling lakes, and rivers, have been providing food, and medicine to these people for hundreds of years. Their traditional food has been salmon, moose, and deer meat. Their vegetables were the wild potato, balsam root, and other plants they learned to eat, and some of them they used for medicine.
In 1994, the government created Ts'yl?os Provincial Park, a large protected area of over 233,000 hectares, to protect the land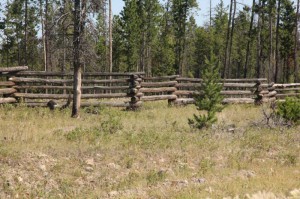 around Chilko Lake. Chilko Lake is the highest fresh water lake in Canada and is known for it beautiful blue waters and the two mountain ranges that close it in. the lake is more than 60 kilometres long and narrow, making it a prime target for high winds moving down the lake. It can quickly go from peaceful, to having 5 foot high waves and is not a lake for novice boaters. Its steep shoreline makes it difficult to get of the off water for shelter from the winds.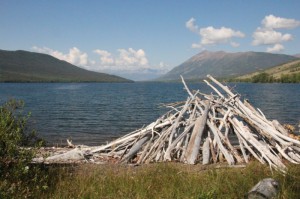 You access the valley over a long, sometimes rough, gravel road, and drive for long distances surrounded by forests of aspen, poplar, and evergreens with few places for long views. Once you are down in the valley you start to see the white tipped mountains in the distance flanked by endless green forests.
There are a few cattle ranches along the way, and in many places you will see the traditional pole snake fence. This is an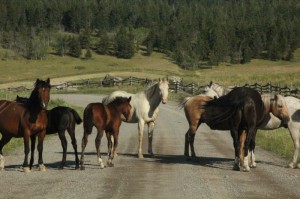 fairly easy fence to construct as it uses the tree trunks intact, and laid end to end.
You may glimpse herds of the wild horses that still roam the Chilcotin Plateau. Or you may see roaming herds of horses from a nearby ranch.
The Taseko River you cross will be quite wild, and turbulent, and grey in colour, because of the silt from the glaciers on the mountains. The white colour is often called 'glacial milk'. There is a small campground at Konni Lake, not too far from the administration area, with a great view.
If you want to get away from the pavement and enjoy a quiet day or two, you will find it here.
Happy RVing!
For more than four decades James Stoness has travelled the roads of North America, photographing and writing about what he has seen. His travel articles and beautiful pictures have been published in several magazines and newspapers. He is also the author of five western novels. Visit his website at: www.stonesstravelguides.com