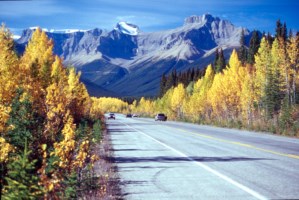 Mountains provide great scenery, and camping, but it's necessary to drive up and down them with our RVs. Mountains keep us on our toes. Some mountains are more of a challenge than others, but any hilly road deserves respect. Those who are accustomed to steep hills and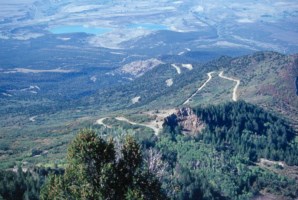 crooked roads know that there is a different set of rules in force than the one you use on the flatlands.
It takes power to climb. When you are buying a travel trailer, make sure that you've selected a tow vehicle that is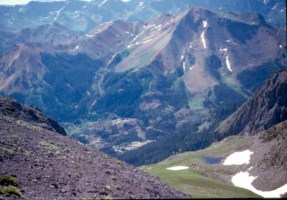 matched to the load. Be aware that sometimes vehicle dealers do not always know all the answers, or perhaps they just want to move a vehicle that's sat too long on the lot. If you're preparing to buy, then do research, research, research. Ask questions, and don't accept partial unsatisfactory answers. And this goes both for tow vehicles, and trailers, or motorhomes.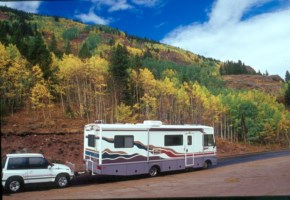 You don't want to be the one hauling a massive 5th wheel on the highway when your truck's manual says that the load is too big. Yes, it may pull it, but the heavy RV is more than the frame, springing, tires, and brakes were designed to handle.

Make sure that you have a transmission cooler. A car or truck's oil can get very hot under a constant heavy load such as a long climb. Not too long ago, I climbed to over 10,000 feet in 2nd gear. It was a 16 mile grind, yet there was no overheating.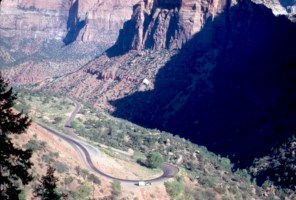 It's always a shocker when you start to loose speed. Sometimes the road does not appear to be climbing very steeply, and you start to wonder if there is some problem. Be prepared to shift to a lower gear, then just climb the mountain and enjoy it. Look at the beauty of the place and learn to love the mountains. There may be sometimes 10-20 mile per hour curves, and if you are going up be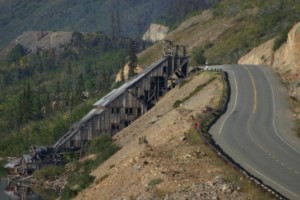 prepared for what follows, and that may be a steep climb. Just be prepared for the fact that you are not going to win any speed records. Be courteous to faster cars and on straight stretches move over to the right a little so the one behind can see past you. Most will pass. It will be easy for them, unless you are the type that speeds up and won't let them past. And of course we know that no RVer would do that. It's a black mark against our whole RVing family.
Many people are frightened of descending. When it's time to come down, gear back. Drive down hills as if you have something to save other than time. You have, you know, your life, and that of your family's. On some grades, even low gear will not hold you back. You are going to have to use your brakes. Avoid using them steadily. Let the speed build up a bit, and then slow it down with your brakes. This way you can get some cooling of the brakes in between applications.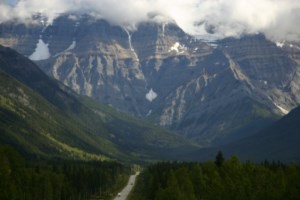 If you a driving a motorhome with a car in tow, use a system like the Brake Buddy to apply the brakes in the car. A   four thousand pound car can push you pretty good, not only on steep hills, but also when traffic conditions force you to stop quickly, and will certainly help your motorhome brakes heat up, and also wear more rapidly. Inspect your trailer brakes before beginning your vacation, and make sure they are pulling evenly. Now, go out and enjoy the trip.

Happy RVing!
For more than four decades James Stoness has travelled the roads of North America, photographing and writing about what he has seen. His travel articles and beautiful pictures have been published in several magazines and newspapers. He is also the author of five western novels. Visit him at StonessRvTravel.com