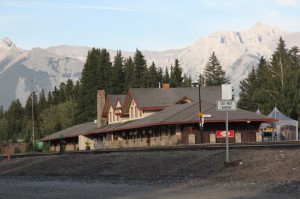 Canada's Banff National Park is known the world over for its mountain scenery. If you visit the park you will see people from many different countries who are busy enjoying the wonders of the park.
RVers come from all across North America to enjoy the camping and to enjoy the pleasure of driving through the park. This is a place where high grey mountains puncture the deep blue sky with majestic ease. On their sides, glaciers cling to sidewalls, or fill beautiful cirques. Hidden alpine meadows call to hikers to come and explore their quiet domains cloaked with rafts of colourful flowers, the silence broken by the sudden whistle of the marmot,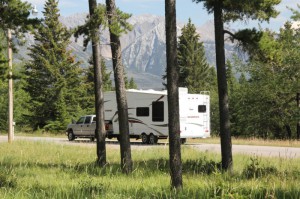 or the sharp crack of shifting ice in a nearby glacier. Walk around a shoulder of rock and suddenly revealed below might be the immeasurable beauty of a tiny emerald lake, one of the jewels of the mountains of Banff.
The park is huge, at 6,600 square kilometres (2564 sq. miles). Setting aside the land for protection began in 1883 when workers building the Canadian Pacific Railway (CPR) discovered a cave with hot running water. The Banff Upper Hot Springs are now are great place to soak in the natural hot water spring, with the facilities for your comfort just at hand.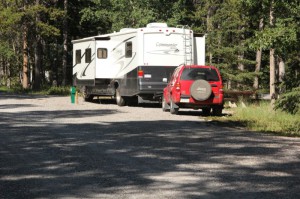 There are campgrounds for everyone. A favourite place to stop is at one of the Tunnel Mountain campsites, just a short distance from the Banff Townsite. If you stop at the Lake Louise campsites you are close to the entrance to Lake Moraine and the Valley of the Ten Peaks which is perhaps the greatest view in the Rockies, and is easily reached.
Lake Moraine, and Lake Louise have become a magnet for every tourist that come to the park and this horde of people is spoiling the beauty of what they had come to see. When I first visited lake Moraine, it was at the end of a long dirt road with a little camping area. Now the road is paved, and there is a huge parking lot, and no camping. Now your experience is fighting for a parking spot, and working through jostling crowds. Try to avoid the summer months, if you want to experience what stirred those who realized what a gem there was here.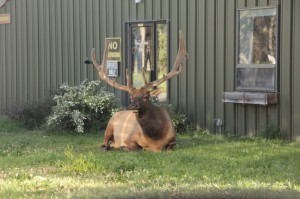 For years visitors had the opportunity to see a herd of buffalo just outside of town, but they were removed. The good news is the buffalo herd may return to the park although they will be placed in a remote back-country, and not up close for viewing as they were formerly. However, they may expand their range if left alone.
Come to the park and enjoy the great scenery. If you can arrange it, avoid the summer months.
Happy RVing!
For more than four decades James Stoness has travelled the roads of North America, photographing and writing about what he has seen. His travel articles and beautiful pictures have been published in several magazines and newspapers. He is also the author of five western novels.  Visit his website at:  www.stonesstravelguides.com