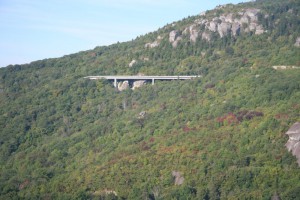 If you enjoy mountain driving you will be in your element driving the Blue Ridge Parkway from Virginia through North Carolina. The parkway is essentially a mountain crest highway joining peak to peak through the long Appalachian chain of mountains. This means there will be a lot of climbing up the side of one mountain, and descending the other side for over 469 miles.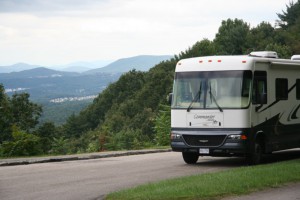 However, if the weather is good, it will be 469 miles of forests during the climbs, and tremendous panoramic views from the mountain tops. Mostly it will be necessary to use the lay-bys to see the valley sights. Years ago the forests had been cut and it was easy to see across the countryside below as you drove. Now the trees are maturing and are too high to see over.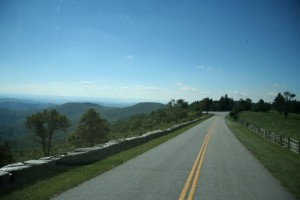 The road is generally in good shape, but some sections are grown in to the point where you have to keep away from the edges or suffer scratches from limbs. It is necessary to watch for branches above as well or endanger your air conditioner if you have a high RV. There is a section of road at the southern end that has three tunnels too low for many RV's.
There are several excellent campgrounds without hookups so it's a good opportunity to try out your RV's self containment features. One drawback is the use of noisy generators. Although there are new quiet generators on the market, many people insist of using the cheaper, noisy variety, thus ruining the camping experience for those around them.
In the spring miles and miles of beautiful rhododendrons line the route and these along with the other spring flowers make it a terrific drive. In the fall the leaves and mountain ash berries provide another colourful time to make the trip.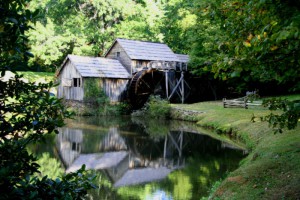 For more than four decades James Stoness has travelled the roads of North America, photographing and writing about what he has seen. His travel articles and beautiful pictures have been published in several magazines and newspapers. He is also the author of five western novels. Visit his website at: www.stonesstravelguides.com