When you are travelling across the Canadian Prairies the last thing you expect to find is an oasis of tranquility straight out of the Far East. Yet, this is what we found in Lethbridge, Alberta as we passed through after leaving the foothills of the Rockies.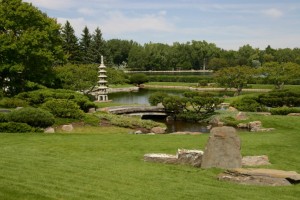 The Nikka Yuko Japanese Garden is a small park of only 4 acres, but is designed in such a way that it appears to be much larger. The project began during Canada's 1967 Centennial to celebrate the contributions of Japanese Canadians to the Lethbridge area.
The two main themes incorporated in the park reflect its location on the rolling grasslands of the prairies and the magnificent mountains to the west. To make sure that everything in the garden would be authentic they imported Tadashi Kubo, who was a respected landscape architect and garden designer.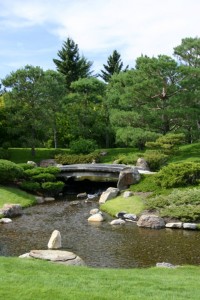 They studied the lay of the land and its location to plan the garden. Water is the life blood of dry land so they developed a stream, a pond and a waterfall. They planted trees, not just randomly, but with an eye to fitting in the varieties so they would blend creating a comfortable, peaceful place to walk, or sit and meditate about life.
Bushes and shrubs are pruned and designed to make a statement that this is a neat place to be. Flowers and walkways through them let you travel at your own speed. Paths are curved so that you never have a long view, nor can you see the rest of the park at one time. Benches are strategically located beside some thoughtful design, or near the splashing of the water on its way to the peaceful pond in whose middle is a small island shaped like a turtle.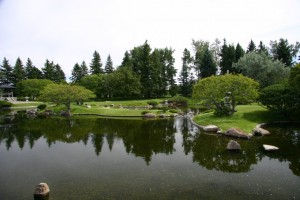 When you are making an authentic Japanese garden you need to use Japanese plants. Since many of these wouldn't survive in Alberta, native species substituted for them. These were pruned and shaped as their true counterparts would be back in Japan.
The ceremonial Friendship Bell is struck frequently throughout the day by passing visitors. The structures of wood, the bridges, and pavilion, were built in Japan, shipped and reassembled on site by experts from Japan who ensured the final product would be perfect.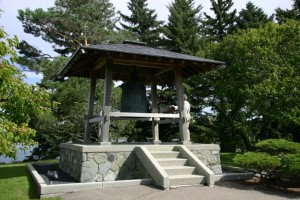 This is a pleasant garden to visit, peaceful, yet in the city. During the year special events take place in the garden attracting regular visitors from close by.
Don't wait for a special day. If this is your first visit it will be a special day.
Happy RVing !
This is in one of the tours in 'Canada: Beyond the Far Horizons' a Touring North America guide book).
For more than four decades James Stoness has travelled the roads of North America, photographing and writing about what he has seen. His travel articles and beautiful pictures have been published in several magazines and newspapers. He is also the author of five western novels.  Visit his website at:  www.stonesstravelguides.com