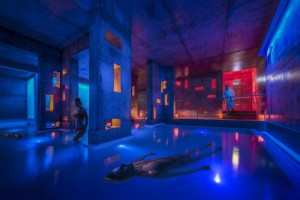 Are you looking for a relaxing experience, one that will ooze your pains away? If so, you may want to visit the Nordic Spa, just outside the border of Gatineau Park north of Ottawa. For starters, there are 8 saunas, 7 outdoor pools, and a restaurant.
It must be mentioned, that the Nordic Spa is for rest and relaxation and there are separate areas where a little talking is permitted, and others where absolute silence is expected.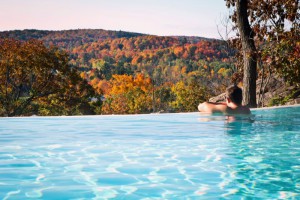 The spa is especially proud of the 'Kalla' treatment. The Kalla is a large pool filled with salt water made by adding Epsom salt, which is magnesium sulphate. Magnesium has reputed good benefits for the body, but the Kalla experience is more than a healthy bath. The bath buoys you up in more ways than one. The dense water lets you float on your back, arms extended, and your head partially submerged. The Kalla found at the Nordic Spa is the second of its kind in the world.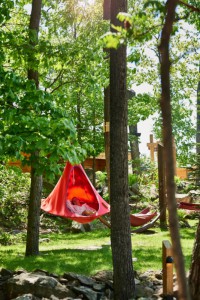 Many visitors head for the Infinity pool, a broad pool whose warm water is very relaxing. There is also a view worth a King's ransom, especially in the fall when leaves are coloured, and the hills are aglow with reds, and orange, and with splatters of green.
After the Infinity pool, you may head for one of the saunas. Lots of choice here. Do you want a dry heat, or perhaps, a eucalyptus steam sauna? You can select also your choice of temperature, and some, like the Barik, can top out at 175-185 F degrees.
Then, race out to do a quick run under the waterfall, or slip into a cold pool. Great surprises here.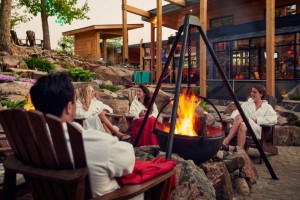 Nordic Spa also offers a wide choice of massages. And then you can relax outside by a big fire, or attend the chairs in the lounge, and maybe slip into a chair in the restaurant for a little nutrition.
The Nordic Spa is beautifully located onto a rocky hill, and seems to fit its location. Stone trails and steps lead you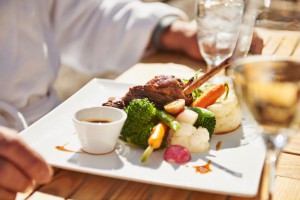 to unexpected discoveries, and that's part of the therapy. Relax and let the Spa take over. Whichever you select, and whatever your choices, you won't find anything to fault about the Nordic Spa.
Pictures are compliments of Nordic Spa.
Happy RVing!
For more than four decades James Stoness has travelled the roads of North America, photographing and writing about what he has seen. His travel articles and beautiful pictures have been published in several magazines and newspapers. He is also the author of five western novels.  Visit his website at:  www.stonesstravelguides.com