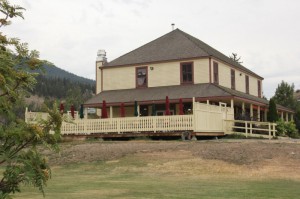 Way back in the mid 1800's travellers seeking gold flocked into the Cariboo and Chilcotin Plateaus of British Columbia. The building of the Cariboo Wagon Road provided an easier way of getting to the gold fields than crawling over the individual animal trails over the canyons and hills.
The road ran from Lillooet (Mile 0) to Barkerville. Local homes, ranches, and road houses provided lodging and refreshment for the tired potential miners. Today we still see towns named after the stopping points, such as 50-mile house, 100 mile-house, and several others. The Hat Creek Ranch Roadhouse was one of the popular places to stop and rest.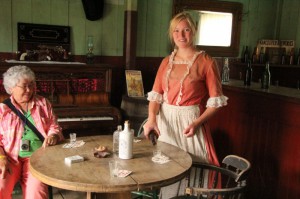 Today, a visit to the Historic Hat Creek Ranch will take you back into a different era. As you join your guide, who is dressed in the clothing of the day, you will be taken through the old Roadhouse, dating back to 1860. The rooms look as if they'd be very inviting to a weary traveller. You can visualize them sitting around the tables in the barroom, warmed by the old box stove, quietly sipping a libation, or more likely having a noisy reunion.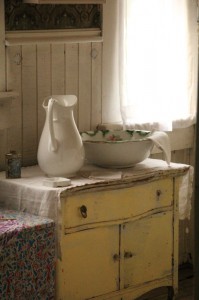 The beds look more comfortable than sleeping on the ground and there was wall paper to brighten up the room, and to cover the cracks to keep out the drafts. The wall paper is still there, although much the worse for the wear of the intervening years.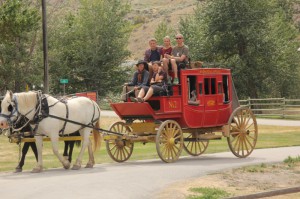 Outside, you can hitch a ride on a stagecoach, and actually ride down a portion of the old Cariboo Waggon Road. You might stroll through the apple orchard and over to the display of antique machinery.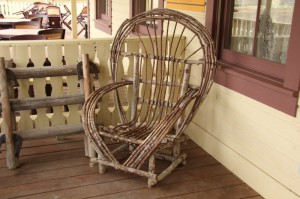 The present day ranch caters to groups who want to come and celebrate some event, such as a wedding. Their 75 seat restaurant is ready for present day travellers, and if visitors want to stay over, there are cabins, a Tee Pee, and several campsites available.
For a pleasant, and unusual trip into the past, you won't find any place that is better.